Community Profile

This journal should be viewed with discretion.
Free Account
Created on 2009-05-02 03:28:24 (#198003), last updated 2017-01-02 (37 weeks ago)
14,409 comments received
574 Journal Entries, 87 Tags, 0 Memories, 8 Icons

About
| | |
| --- | --- |
| Name: | Waymeet |
| Location: | (states/regions/territories) |
| | |
| Membership: | Moderated |
| Posting Access: | All Members, Moderated |
| | |

Mini Bio
October 2011: The community is on hiatus and membership requests are no longer being considered.
Our Vision for this Community
Home is behind, the world ahead,
And there are many paths to tread
Through shadows to the edge of night,
Until the stars are all alight.
The village of
Waymeet
lies at the crossroads where the Great East Road branches north to Little Delving and south to Longbottom and Sarn Ford. This village appears on Tolkien's map of the Shire and in early drafts of
The Return of the King
as Waymoot, though the name was later changed to its modern spelling. The meaning is the same in either case, since the roots of both variations are the Old English
ge-mót
(a meeting or coming together) and
weg
(a way, a road, a path commonly used).
Hence
Waymeet
is a place where, as Tolkien says of Bree, wanderers and other folk pass "to and fro through that ancient road-meeting," bringing strange customs or news of distant lands. We hope that our community will serve a similar purpose for those with an adventurous spirit, and while some may travel "there and back again" by the same way, others will choose to follow a new path.
The maintainers have journeyed with the books (and the movies) to places we might never have visited without their guidance. We would love to share our further explorations of the books' meaning and purpose in the company of friends who cherish a similar vision.
Canon Sources
We accept works based on or inspired by
The Lord of the Rings
(book and films),
The Hobbit
(book and films), and relevant volumes of
The History of Middle-earth
(i.e. Vols. 6 through 9 and
The History of the Hobbit
).
Genres
We have chosen to restrict the community's purview to those genres which delight and move us as individuals and as a group of like-minded friends. We therefore welcome
Fictional Person Slash
and
General
stories wherein hobbits play the central roles, and
Real Person Slash
and
General
stories featuring hobbit actor pairings or hobbit actors. All story ratings are welcome, from G to NC-17, and stories may be 'canon', AU or crackfic (please see the Rules for further details).
The community does
not
accept stories which involve interspecies, hobbitpiles, hobbit actor piles, or het pairings (except where the latter are present in canon and then only in a secondary role). For further clarification on this or any other issue, please e-mail the maintainers at semyaza@shemhazai.com. We won't bite!
Art
Members who are also artists may respond to a challenge with art rather than with fiction. Art includes graphic art (drawings, lithographs etc), painting, and photo manipulations. Genre and pairing rules, as stated above, apply to art. Artwork may be rated G to PG-13.
Membership
Waymeet seeks to provide a companionable meeting-place for those who harbour diverse interests and perspectives as well as a willingness to rub shoulders with fellow travellers. Membership is available to those with some experience as writers, an ability to work well with others, and an enthusiasm for this project and for the works of J.R.R. Tolkien.
Please read the profile page and the rules carefully before clicking to request membership. Membership will be restricted to adults 18 or over
.
We would ask that watchers and readers be similarly aware of this age restriction. All adult material will be clearly marked.
October 2011:
The community is on hiatus and membership requests are no longer being considered.
Rules
for members may be found
here
.
ChallengesWaymeet
is a challenge community. Challenges will be issued on a regular basis and will be suitable for all genres and ratings. There will be
no attempt
to make writers depart from their customary genres, although we would be delighted if some decide to explore new paths. RPS writers might like to try FPS, for example, or vice versa. It will not be incumbent upon members to participate in every challenge, and no memberships will be revoked due to non-participation. However, the
Waymeet
community is, at least in part, a writers' workshop, and its members post here out of love for the subject and a desire to grow as writers. We hope that all members will be generous with their feedback and contributions to the ongoing discussions even when they are unable to otherwise participate in challenges.
Modding
The mods will not tolerate the slightest whiff of discord or flaming on this community. We reserve the right to screen or delete inappropriate comments. IP addresses of anonymous commenters are logged. We do not like orcs or trolls.
Watchers and Readers
Many in the LotR community contribute actively to other genres or pairings, and many--whether artists, writers or passionate readers--have helped foster a sense of common purpose with their kindness, their constructive feedback, and their love for the source material. Although
Waymeet
is a writing community, it extends a welcome to all watchers and readers. It invites and encourages them to share in the discussion of stories, writing-related issues, and whatever else may emerge from our common interests as the community unfolds.
To watch
waymeet
, please click the 'monitor community' person icon on the small toolbar, then click 'add' on the next page. Adding a community allows you to read the community's public posts on your friends page, but commenting is open to everyone--members, watchers/friends and non-LJ readers.
Please join with us and raise a pint as we gather together in
Waymeet
. On with the challenges!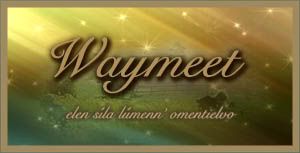 Layout and graphics by
annwyn55
Light texture on banner by
ashke_icons

Connect
bilbo baggins
,
billy boyd
,
dom monaghan
,
elijah wood
, fredegar bolger,
frodo baggins
, gaffer gamgee,
gandalf
,
hobbiton
,
hobbits
,
ian holm
,
lobelia sackville-baggins
,
lotr
,
meriadoc brandybuck
,
old winyards
,
pipeweed
,
pippin took
,
samwise gamgee
,
sean astin
,
slash
,
the hobbit
,
the shire
,
tolkien
Administrators

Members (17):
annwyn
,
calise
,
elderberrywine
,
grey_wonderer
,
ink_gypsy
,
lavendertook
,
leianora
,
linwesingollo
,
mews1945
,
primwood
,
princessofgeeks
,
rakshi
,
samvais_gamgi
,
semyaza
,
shirebound
,
stranger
,
telstar

Subscribers (20):

Linking
To link to this user, copy this code:
On Dreamwidth:
Elsewhere: